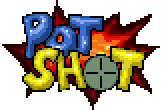 help | join | login | report bug
Potshot is the quick little game you have been waiting for.
Each player starts with their Unit on a 5x5 Board, and may Shoot or Move each turn.
Each time a Shot is taken, the distance between the Shot and the enemy Unit is shown.
Units can move only to an adjacent Square that has not been Shot.
There are other neat features too, like... Grenades, Gambling, Flashbangs, MASS PWNAGE!
Its quick and Free to Join, and there is no email activation nonsense!
Please note that, while I have taken many measures to try and make Potshot work in all browsers, it is no easy task as each browser behaves differently! Opera 9 does not fire onLoad events for inner AJAX content, so your playing experience will not be as fluid if you are using this browser :(


Page generated in 0.008 seconds with 1 queries.
Copyright © 2009-2023 Matthew Hart